Red Hot & Real BBQ Competition
Clovis California
September 20th 2008
A national KCBS sanctioned event
Mixed results here - the level of competition was a step up from Fairfield with many more top teams from southern California making the show.
Our scores look pretty good on paper until compared to the rest of the field who scored even better. The good looking numbers left me surprised that we were running about 30th out of 42 teams.
30th until brisket anyway - I made a terrible tactical mistake in presenting sliced brisket featuring bark over taste and tenderness. What a terrible mistake, and we paid for it, sinking to the bottom of the pack. Let that be a lesson.
Chicken, which was prepared exactly the same as the 5th place winner at Fairfield the month prior came in a distant 3o-something. But in analyzing the numbers a curious thing happens.
One judge scored us low on tenderness - two to three points below where the other 5 judges landed. Perhaps a bad bite of chicken - if that tenderness score came in average, we would have taken 1st or 2nd in chicken - that's how close and subjective it is.
Oh well, learned a lot, had a great time, met new friends and enjoyed the company of old friends.
Pam and me
Pam and Noname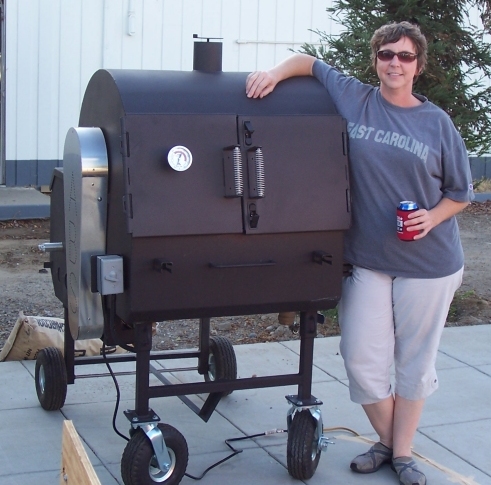 Cooking late into the night
Our chicken box. It has quite a few problems which we'll need to correct next time.