American Barbecue Systems - Pit-Boss
Here's something cool - best of both worlds in my book. Large enough for competition, and small enough for efficient backyrad use of no more than a rack of bones or two.
The American Barbeque Systems, Model: Pit-Boss
I just brought this bad boy home from the truck depot. Here's some pictures. These pics are fresh - prior to curing/seasoning/kicking a couple loads of fuel to burn off the manufacturing oils and goo and set a layer of nice smelling cooking oil and smoke.
Who looks better - me or the pit?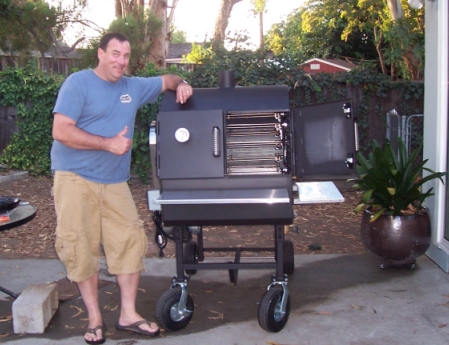 This thing has so many convenient design features in a compact package, hands down the cooker of choice. It ain't exactly as sexy as a Klose pit, but let me tell you, the welds, workmanship, and usability are top notch.
A long time ago, I spent 10 years paid as a mechanical designer. One place I worked at during that time was the Stanford Linear Accelerator Center or SLAC - Let me tell you, I've seen some dudes who could pull a real nice weld bead.
The weldment beads on this unit are right up there with the best I've ever seen. Slag is ground down, and the beads flow like butter.
Ummmm, I'm too sexy...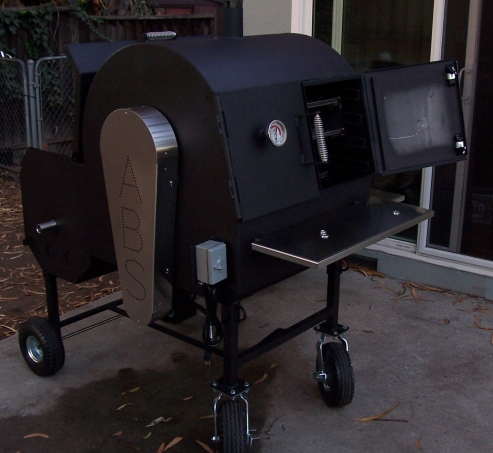 ditto ...
Look at the size of those racks. She's not half bad inside either!
This is a very user friendly cooker, very efficient, and very compact. Here's the deal - I don't make a penny recommending American Barbecue Systems and you wont be pissed or feel gyped if you buy one either.
---
Maiden cook results are in:
I did one rack of spares, 3 sausages, 6 thighs and two corn cobbs. That didn't come close to the capacity of this compact cooker.
Aiming for competition quality ribs and chicken, I must admit, the rib bones were outstanding - some of the best I've ever done including those done on the Weber Smoky Mountain bullet cooker.
I also used the firebox to grill, so I had stuff cooking in the front and cooking in the back all at the same time. Not only that, but I cooked my bbq sauce out-doors on the lid of the firebox - came to boil in no time.
All in all, I'm completely thrilled with the Pit-Boss. I've got some work to do to make the trailer sutable for safe, easy carefree loading, unloading and transport, but that's another subject.
After all, I could have opted for The Judge instead.